Casa Vinicola Bosco Malera
Via Correr, 17
31040 Salgareda (TV)

PHONE +39 0422 807818
MAIL info@boscoviticultori.it

| | |
| --- | --- |
| Plant manager: | Enol. Claudio Sartor |
| Collected grapes: | 30 million bottles |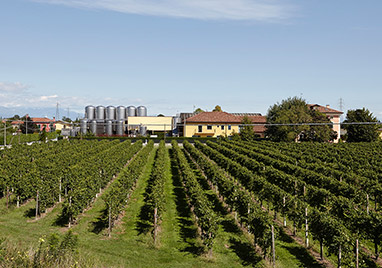 Description
Bosco Viticultori, has been part of Vi.V.O. Cantine since 2012. It's located in Salgareda, in the heart of Veneto Orientale, territory since ever vocationally aimed to quality viticulture. A region with a great history and important cities among which Venice and Treviso, where culture of Prosecco has its origins.
Our passion for wine and sparkling wine stems from our culture and our knowledge of our vineyards, but also from our constant search for the finest available production technologies: our 68 pressurized tanks - with an overall capacity of 29 thousand hectoliters allow us to offer a product that is always fresh and lively, and with optimum taste characteristics.
Two bottling lines permit to offer bottles with a personalized packaging, in order to satisfy the growing market request.
Thanks to Vi.V.O. Cantine, Bosco Viticultori is able to guarantee to its costumers high and costant quality wine with an excellent value for money.
Bosco Viticultori is a company with an international vocation that has consolidated over the course of time: 65% of our turnover is now represented by export markets.
Where we are