The wineyards
Cabernet
There are two important varieties of Cabernet wine: Franc and Sauvignon.
The origin of this wine is from Bordeaux but it's well known and widespread in the territories of Eastern Veneto.
Good vigor, produces red grape that ripens in the first half of October. The variant Sauvignon gives rise to wines of a deep red color rather aged, full bodied, tannic taste and pleasant flavour and slightly grassy adopted by aging. The Franc variety has similar features, but a more marked and decided character.
Chardonnay
It 's a vigorous wineyard, of French origin and widespread all over Italy, with particular success in the North-East. It produces white grape that ripens from late August to mid-September and has a very early bud break. Crops are usually contained and require short pruning. The wine has a pale straw yellow colour, a floral and fruity flavour, a cool and dry taste.
Glera
It's a vigorous vine that produces white grapes and ripe in mid-September and early October, despite its early budding. Very popular in the Veneto Region, expecially in the area of Conegliano-Valdobbiadene, it prefers a relatively expanded cultivation and medium-long pruning. It is usually at the base of sparkling wines, expecially Prosecco wine from straw yellow color, exquisite fruity flavour and fresh and dry taste.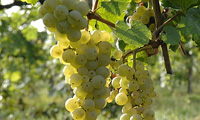 Incrocio Manzoni
The Manzoni Bianco 6.0.13 is originally fron the county of Treviso; the wine was born from the Riesling and the Pinot Bianco wine; today it is widespread in almost all the national territory and it's a variety of grape included in some of the production textbook of white DOC Colli of Conegliano Breganze Bianco and Trentino Bianco, as well as several IGT wines in which it is vinified alone.
Merlot
It 'a grape originally from Bordeaux that in Italy has found an ideal location in the hearth of Veneto. It produces red grape that ripens at the end of September and early October. The result is a wine of a deep red colour with great structure and elegance, velvety taste.
Pinot bianco
It's a of medium vigour vine of French origin, very common in northern Italy. It produces white grape that ripens in mid-September and is characterized by a medium-early bud break. It is cultivated in the contained quantities and requires short pruning. The resulting wine has a straw yellow colour with greenish reflexes, lightly fruity flavour and smooth and harmonious taste.
Pinot Grigio
It's an originally grape of Borgogna, medium vigor, producing white grapes. Mature in mid-September and it is characterized by a medium-early bud break. -It's coltivated in small quantities and needs short pruning like Pinot Bianco.
The wine has good structure, yellow colour more or less intense or copper, depending on the method of vinification, floral flavour and dry and soft taste.
Pinot Nero
It's one of the most difficult grape to grow, but it can lead to excellent results.Pinot grapes is cultivated mostly in: Trentino, Veneto, Oltrepo Pavese, South Tyrol, some areas of Tuscany. It has an intense flavour that reminds to the blackberry or raspberry; it presents red berries not too fired.
Raboso
It's an authocthonous black berry wineyard, typical of the Marca Trevigiana (territory of Treviso), has ancient origins: it is cultivated in the North East of Italy, and in particular in Eastern Veneto, since about 3.000 years. The wine presents a great wealth of intense ruby red color with violet scent reminiscent of morello cherry, taste sour, bitter and tannic, with a good body.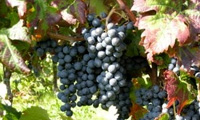 Refosco
It's an authocthonous wineyard of the Triveneto Region. It takes the name from the peculiar peduncle (the "twig" that join the stalk of the bunch to the plant) of intense purple-red color. This grape is cultivated mainly in the Piave area and in Friuli-Venezia-Giulia, where it reaches the best results. bunches medium and compact, with dark and resistant berries. It 'a very productive vine, the quality is determined by cultivation techniques and the subsequent fermentation.
Sauvignon
It 'a grape of French origin, it's vigorous and produces white grapes. It ripens in late September and has a medium-early bud break. The cultivation takes place usually in a relatively expanded way and requires medium-long pruning. The produced wine is yellow with greenish, mint and pepper flavour dry and crisp taste.
Traminer
The Traminer aromatico or Termeno aromatico or Gewürztraminer (Gewürz means "spice" in German), or Savagnin, is a grape variety grown mainly in Trentino-Alto Adige and Friuli-Venezia Giulia, there are two types: an aromatic Traminer or pink and a red Traminer.
Verduzzo
It's a vigorous vine that produces remarkable white grapes, an authocthonous of North-Eastern Italy.
Mature in late September and has a budding medium-late. The cultivation of this variety are usually expanded and require long pruning. The wine made from it is yellow with greenish hues, exquisitely scented and flavoured dry and pleasantly bitter.